Imagine develops winning mobile app in the World Government Summit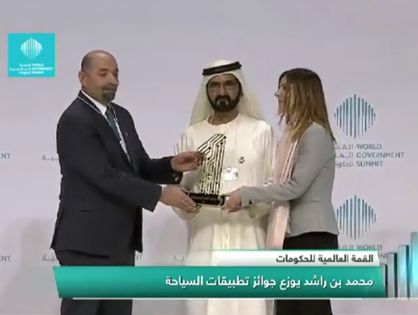 The Jordan Tourism Board's mobile app "Visit Jordan" designed & developed by Imagine Technologies has won the best Arab mobile app for government services in the tourism sector in as part of World Government Summit Awards held in Dubai this week.
The World Government Summit is a global forum dedicated to shaping the future of governments worldwide. The Summit awards is aimed to showcase innovations, best practices and smart solutions to inspire creativity and to tackle future challenges. For the World Government Summit Awards 256 applications participated which were representing 17 countries. "We are honoured to have won this prestigious award for the tourism sector", said the Jordan Tourism Board's Media and Communications Director Tohama Nabulsi.
The accelerating growth of mobile usage, 60% of consumers' time spent online is from a mobile device according to ComScore, makes it essential to digitize the traveler's experiences for the mobile screen. "Creating unique digital experiences is a core focus for us at Imagine Technologies" Said Imagine Technologies General Manager Eng. Ali Hajjaj, he added "Our ongoing journey with the Jordan Tourism Board in travel marketing and technology enabled us to add value to the country's tourism sector with the creation of engaging digital experiences."
The Visit Jordan smartphone app helps tourists explore the Hashemite Kingdom of Jordan, and prepare for their trip. The mobile App available on both iPhone and Android features information about the many attractions in Jordan, it also includes information about events, hotels, restaurants, as well as traveller checklists, itineraries and much more.