Destination Campaign of the year for Europe, Middle East and Africa Expedia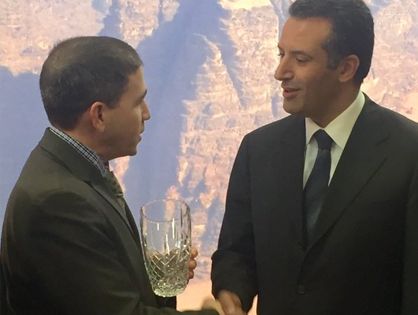 The Jordan Tourism Board represented by its chairman of the board, His Excellency Mr. Nayef Fayez Minister of Tourism and Antiquities and its Managing Director Dr. Abed Al Razzaq Arabiyat, received the award for Europe, Middle East and Africa Destination Campaign of the Year from Expedia this afternoon at ITB Berlin. The award, presented by Expedia Media Solutions' Senior Vice President Noah Tratt, Senior Director Marketing and PR Monya Mandich, Director of Sales (EMEAI) Luca Romozzi, and Business Development Manager for the Middle East and India Piyush Minocha, "reflected the Jordan Tourism Board's commitment to utilizing the most effective and important tools to reach consumers in resilient target markets," commented Dr. Abed Al Razzaq Arabiyat, Managing Director of the Jordan Tourism Board.
The campaign created by Imagine Technologies was run on Expedia and Travelocity and targeted travelers from Germany, France and the UK and resulted in 35 and 43 percent increases from the previous year in passengers and room nights booked respectively.